Tanzania's best win bonus helps Giriadi win Tsh7,939,844.19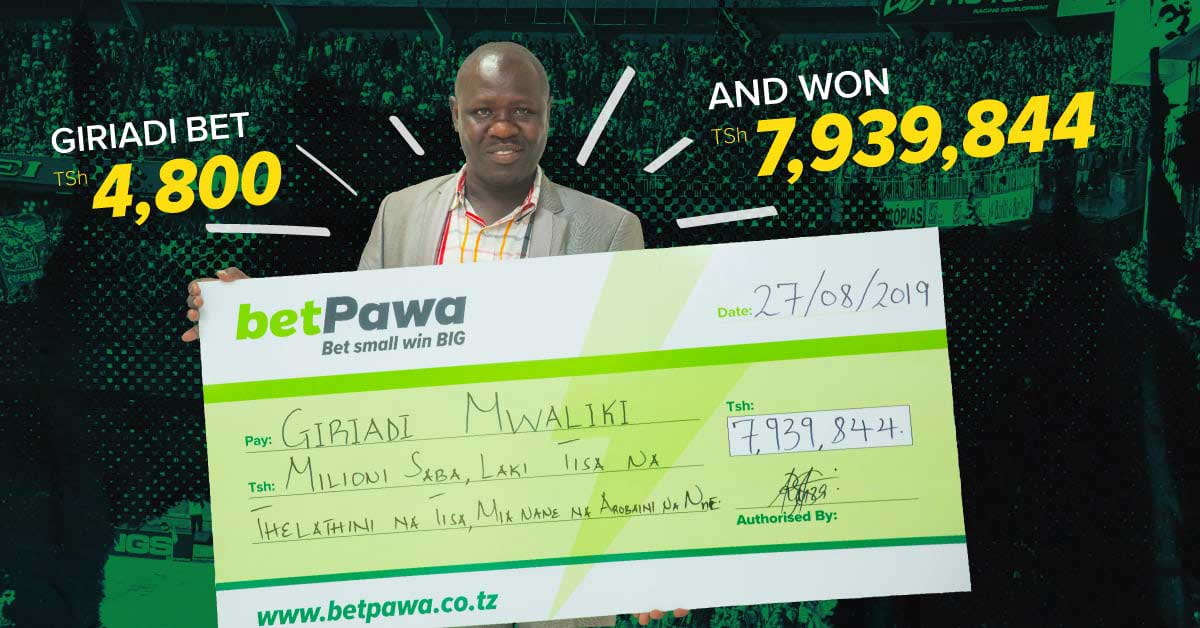 Giriadi Mwaliki turned Tsh4,800 into Tsh7,939,844.19 with some help from Tanzania's best win bonus.
The entrepreneur from Mwanza bet on 13 matches on Wednesday 21st August. And because he selected 13, he got a 55% win bonus on top of his winnings.
betPawa's win bonus is available on all bets with three or more legs and goes up to 250% when you pick 30 legs.
Impressively, Giriadi won over a million earlier this year too. He explained: "It has been eight months since I started using betPawa. And this is not the first time I had a BIG win with betPawa. The first time I won BIG was around April near the Easter holidays. I won around Tsh1,100,000.
"I was just browsing online and noticed about betPawa. Then I saw the customer service number and called them and they assisted me well on the registration process."
What next for Giriadi?
Describing his latest BIG win, the second-hand clothes salesman and M-PESA business owner said: "The next morning when I found that I won, I said to myself that betPawa is the saviour of my life. I was really excited. And I told my wife that it looks like this company will give us success.
"I enjoy betting with betPawa because it has really great odds but also there is an instant payout, short and clear procedures almost in everything. For example, while making a deposit, it is very short and easy to understand. Also, betPawa's website is simple to understand.
"My plans for the money I've won are not private. I would love to push more on the second-hand clothes business and the M-PESA business, because I have more experience on the business and I know the losses and profits.
Asked what advice he'd give to others looking to bet small win BIG, he added: "I believe in intensive research on the teams before placing the bet." This attention to detail was proven by including Cray Wanderers v Margate, a match from England's seventh division, in his bet.
Giriadi finished with praise for the emPawa13 and emPawa17 Jackpot games – "betPawa's Jackpot is very nice and very convenient because you can bet even with Tsh100" – and saying that "my main message to the environment I come from is this betting company is the right one."
Want to win BIG like Giriadi? Sign up with betPawa.
What is betPawa's no minimum stake? betPawa offers its customers the chance to bet small win BIG by allowing users to bet as little as Tsh1.
What is betPawa's win bonus? betPawa offers the best win bonus in Tanzania, inviting users to win up to 250% extra. With 50% for 12 correct picks, 100% for 20 and 250% for 30, you get much more in return.
betPawa is the easiest way to bet online securely. Not only do we offer the best odds and the opportunity to bet small win BIG with a minimum bet of Tsh1 and win bonuses up to 250%, we also provide 24-hour support to customers who need it.
Are you the next winner? Join here: www.betpawa.co.tz