Michael Mwanaloya didn't get every result right but still won TSh23,700,600.46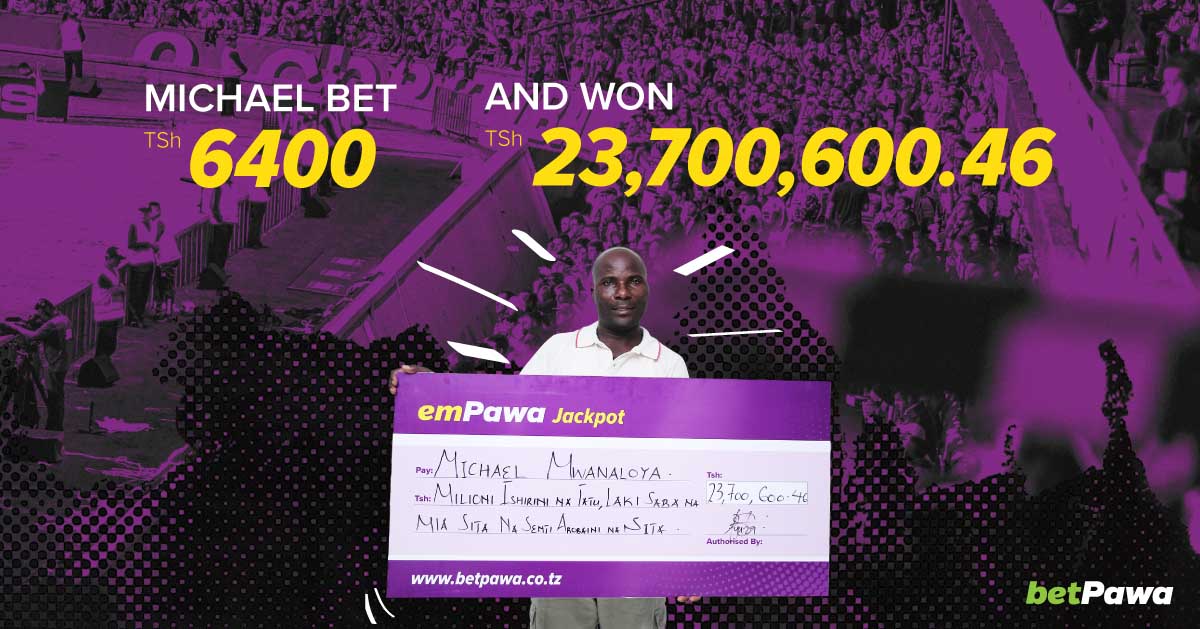 You don't even need to get every result right to win a life-changing sum playing our emPawa17 Jackpot game.
That's what Michael Mwanaloya discovered in our 27/10 edition. He made 16 correct predictions out of 17 on one ticket to win TSh16,000,000. He bought 63 other tickets, 41 of which won prizes for getting 13, 14 or 15 right, increasing his total winnings to TSh23,700,600.46.
He said: "The day that I won, I wish you were my neighbour so you could understand the joy I had. My rib (wife) was the first to know and both of us were shocked and excited."
emPawa17 tickets cost just TSh100 and the Jackpot is TSh200,000,000. There's also a midweek emPawa13 game with a TSh10,000,000 Jackpot and prizes for 10 or more successful predictions.
Michael's betPawa story
The farmer and driver only joined betPawa a few weeks before winning BIG. "Where I live it's forestry. Therefore, it's better to bet with betPawa because of the online services. Because at any time, I can place my bet," he revealed.
He offered a few insights into his approach too: "I normally check out the teams which are about to play and research about them. Then I look at the line-ups. When I get the line-ups, it gets easier for me in making my decision in betting.
"Normally I buy a lot of Jackpot tickets, and have this one ticket which I'll look into over and over again. It happened to be this ticket and when I noticed that I have got 13 matches correct, I was too excited, turned off my phone and went to sleep."
What next for Michael?
The Rukwa resident already has some ideas on how to spend his TSh23,700,600.46. "I believe the money will help me with farming and also pushing my kids academically in terms of school fees," he explained.
What would he say to other players? "The only advice I can give them is don't rush in placing bets. You might find easy games to bet on, but you still have to do research on them.
"I went to where I was working in the past and I told them that I won some cash betting with betPawa. Everyone was shocked and asked me how I did it. I had to spend 30 minutes explaining to some people there how betPawa operates. All I can say is betting is real."
Want to win BIG like Michael? Sign up with betPawa.
What is betPawa's no minimum stake? betPawa offers its customers the chance to bet small win BIG by allowing users to bet as little as Tsh1.
What are betPawa's Jackpot games? betPawa runs emPawa17 every weekend in Tanzania, where customers can win up to TSh200,000,000 from a TSh100 ticket. There are cash prizes for anyone who gets at least 13 results right. You can also play emPawa13 every midweek, with a TSh10,000,000 Jackpot for 13 correct results.
betPawa is the easiest way to bet online securely. Not only do we offer the best odds and the opportunity to bet small win BIG with a minimum bet of TSh1 and win bonuses up to 250%, we also provide 24-hour support to customers who need it.
Are you the next winner? Visit: www.betpawa.co.tz