Peter Tluway wins TSh14,503,326.27 after getting a 225% win bonus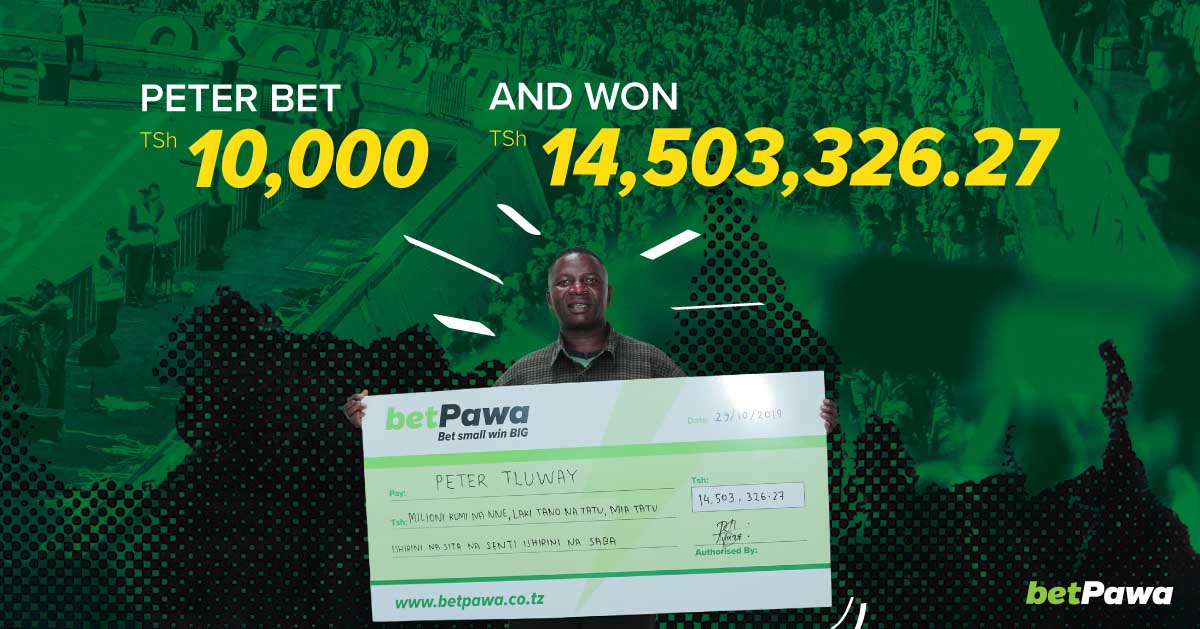 A Katesh resident turned TSh10,000 into an enormous TSh14,503,326.27 with the help of a 225% win bonus.
Peter Tluway had his bet winnings more than trebled after making 29 successful selections. betPawa offer the best win bonus in Tanzania for all bets with three legs or more, including 250% for bets with 30 legs.
He wasn't surprised though. "I had this mentality of 'one day yes'. I had such a strong belief in myself that there is a day I'm going to be a BIG winner. Therefore, when I saw my betslip with the green wins, I felt like I met my purpose," he explained.
"You make us feel special"
"I used to bet with other companies but once I started betting with betPawa, I was really having fun," added the masai shoes entrepreneur, who joined earlier this year.
"The way how you treat your customers, you make us feel special. And the variety of markets you have, many matches across different countries.
"I like the 250% win bonus. I believe you guys are the only company in Tanzania with such a big win bonus. It really separates you from others."
The secrets of Peter's success
Peter doesn't mind if the matches in his bet take place on different days. His winning bet included 29 games played over 12 days, including some in Denmark, Wales and Northern Ireland. He has a WhatsApp group to share ideas with his friends.
He said: "Normally I have a group of my other four friends. Some of them work as bank tellers, some of them are doctors. We always do intensive research together and place our bets differently.
"And also, I normally select matches even which get to be played after two or three days, so I can get more matches on my betslip. I believe you have to have the passion for sports and the game of football specifically so you can get a broad knowledge while doing the research.
"I did my intensive research before betting and I know the majority bet on the major leagues such as the English Premier League, but I always look into various leagues."
The moment he won BIG
How closely was he watching his bet? "I was following up on my betslip, but also my other friends were on my neck asking me about it since I shared it on our WhatsApp group," he said.
"When only seven matches were left, then four matches, one of my friends called me and said 'your betslip is glowing, I have a feeling you will win this'. The first people to know were those four friends of mine who we have a group with. They were all happy for me.
"I have positive ideas with my winnings. I wanted to expand my business and enjoy my winnings while my business is growing."
As for his message to people in Katesh, he added: "I think from where I come from, I'll be a living proof that this is real."
Want to win BIG like Peter? Sign up with betPawa.
What is betPawa's no minimum stake? betPawa offers its customers the chance to bet small win BIG by allowing users to bet as little as Tsh1.
What is betPawa's win bonus? betPawa offers the best win bonus in Tanzania, inviting users to win up to 250% extra. With 50% for 12 correct picks, 100% for 20 and 250% for 30, you get much more in return.
betPawa is the easiest way to bet online securely. Not only do we offer the best odds and the opportunity to bet small win BIG with a minimum bet of Tsh1 and win bonuses up to 250%, we also provide 24-hour support to customers who need it.
Are you the next winner? Join here: www.betpawa.co.tz